About The Project
Project Name: Artform Condos
Location: 86 Dundas St E, Mississauga
Developer: Emblem Developments
Architect: 
Interior Designer: 
Status: Pre-construction
No. of buildings: 1
Storeys: 17
Building Type: Condominium
Total no. of units: 336
Introducing a stunning new condominium coming to the neighbourhood of Cooksville, Mississauga at 86 Dundas St E – Artform Condos. Executed by a leader in Canadian developments, EMBLEM Developments plans for a 17-storey building containing a total of 336 units. Its location is prime, especially with the new 18 km Hurontario LRT line currently under construction, further facilitating transit in this area and home value.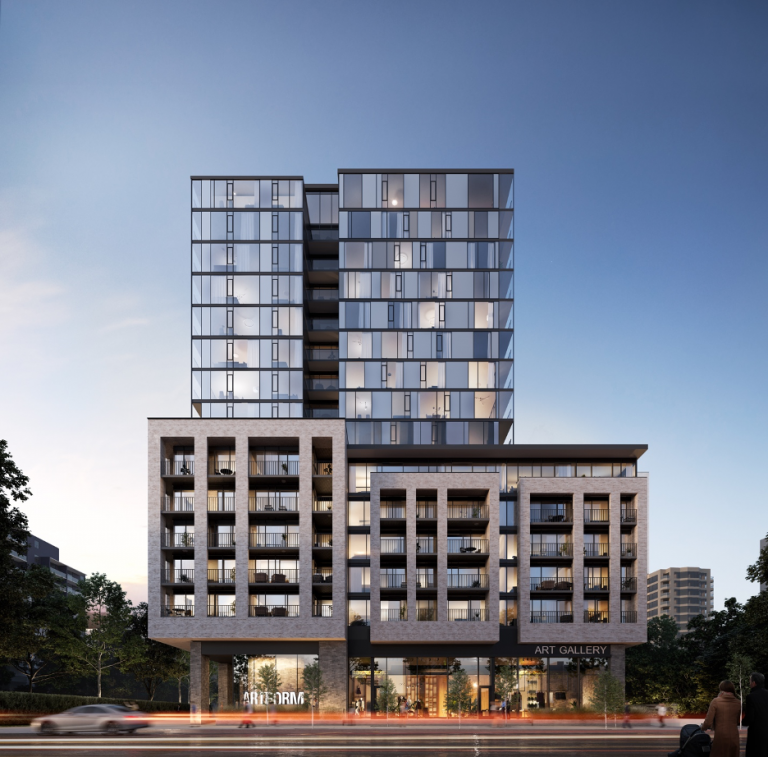 AMENITIES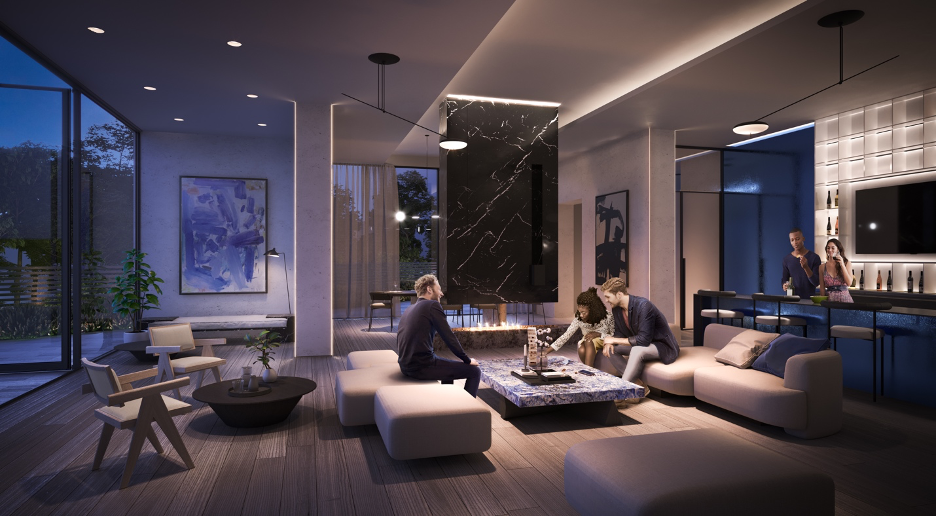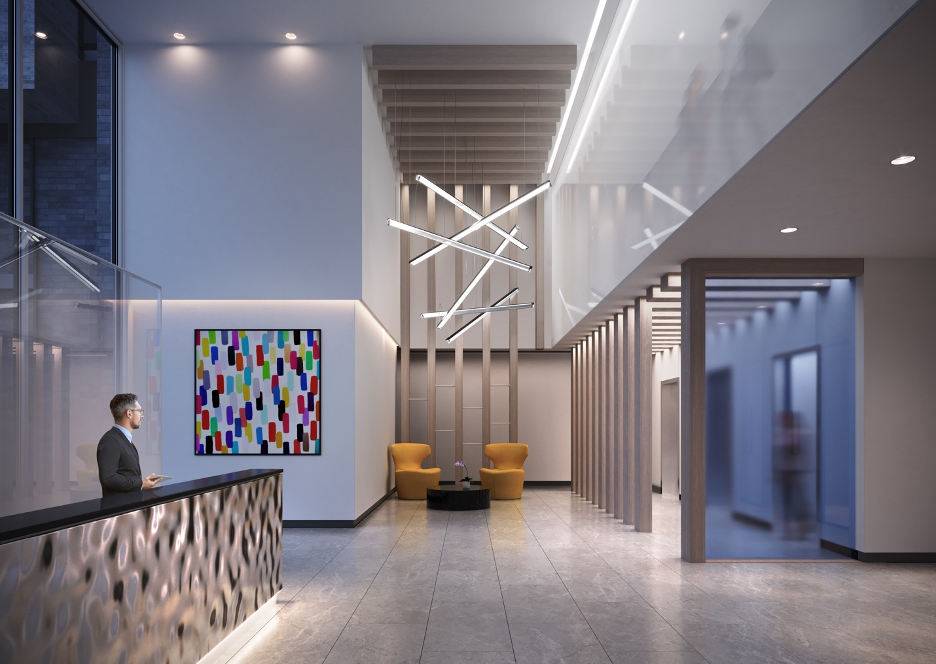 From the exterior to its name, Artform Condos hints at a new height of living. Its stunning, innovative exterior blends together brick, metal, stone, and glass into a complex building. Most of the building features an eye-catching glass façade that will undoubtedly make the building stand out within the neighbourhood. Residents will be able to retreat to their private space on their respective balcony, which overlooks the Mississauga skyline. Emblem Developments has set aside approximately 17,620 sq. ft of indoor and outdoor amenity space where residents can get to know their many neighbours.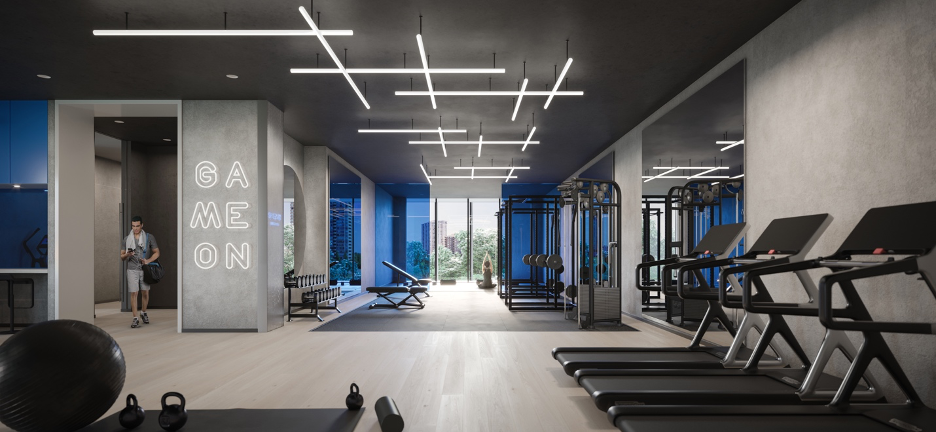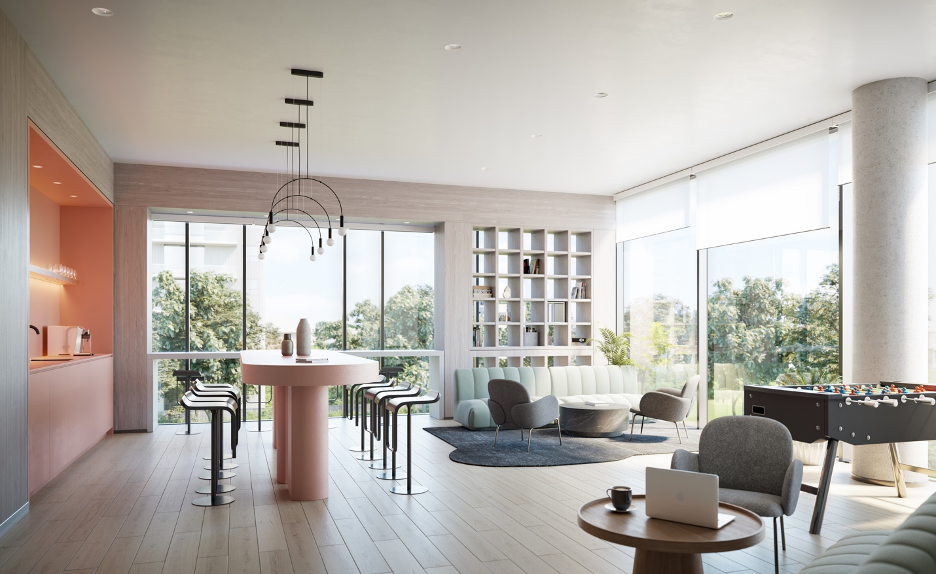 Amenity space includes a state-of-the-art fitness centre and luxurious party room. Renderings depict an expansive fitness centre with modern designs, perfect for fitness enthusiasts or beginners looking to take up a new hobby. Its party room creates a perfect atmosphere to have your friends and family over, with modern and eccentric designs spanning the space. Retreat to the Co-working Lounge when you need that extra space to get some work done or chat with your neighbours.
LOCATION & TRANSIT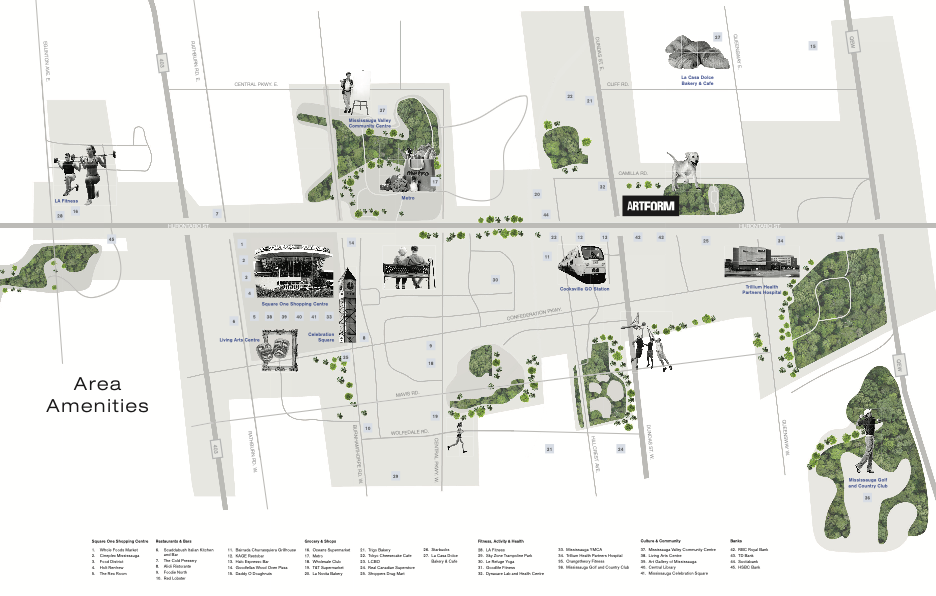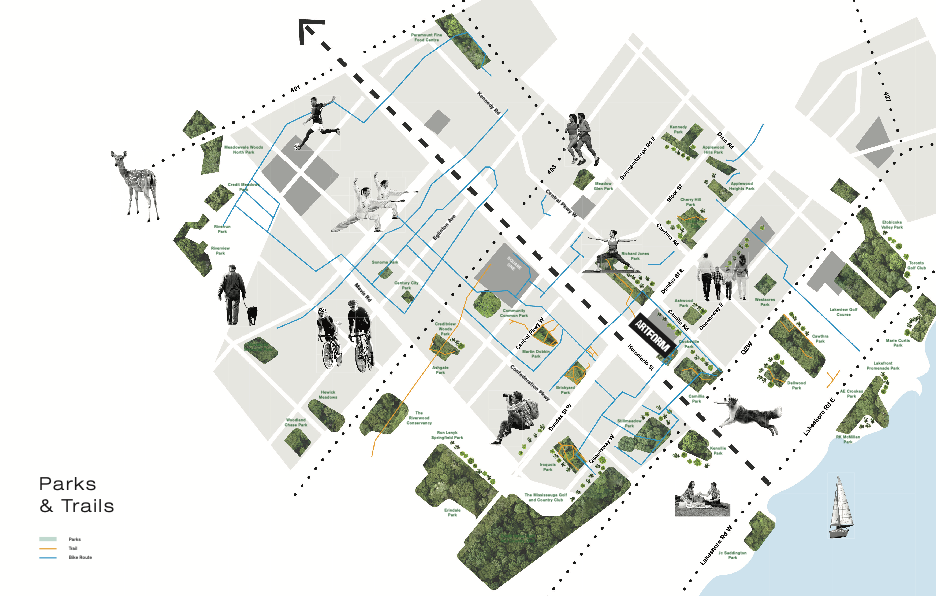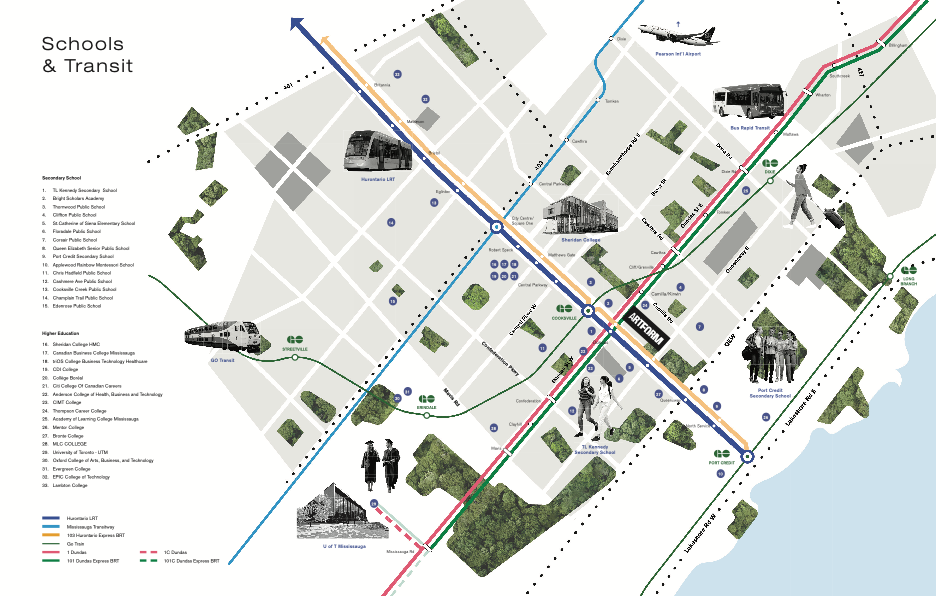 Artform Condos is located at the intersection of Hurontario St. and Dundas St. at 86 Dundas St. East in Mississauga. Situated in the historic neighbourhood of Cooksville, residents in this area have access to many grocery stores, banks, and stores that will make running errands feel like a breeze. Within walking distance is Food Basics, Scotiabank, Shoppers Drug Mart, Tim Hortons, and more. Only an eight-minute drive away is one of Mississauga's most traveled to destinations, Square One Shopping Centre. It is the largest shopping centre in Ontario and the second largest in Canada, residents will have access to hundreds of stores and eateries.

Luckily for residents, transportation will be facilitated at Artform Condos with the new 18 km Hurontario Light Rapid Transit (LRT) line, currently under construction by Metrolinx. One of its stops will be connected to the existing Cooksville GO Station, which is only one stop away from Artform Condos. Only a 14-minute walk or 5-minute drive away, residents can access any part of the GTA with ease and connect to the rest of the GO system. Artform Condos is also located only 500m away from the future Dundas LRT stop and five stops from Square One. The Bus Rapid Transit (BRT), with its frequent three-minute service will also provide connections to TTC subway stations and the University of Toronto Mississauga campus.
For Artform Condos residents who will be travelling to downtown for work or school, Artform is only a 30-minute GO Train ride away or a 25-minute drive away from Downtown Toronto. If you're travelling by car, simply merge onto the Queen Elizabeth Way to your south for one smooth ride to downtown. Highway 403 is just to your north, which connects you to Ontario 401 Express and other highways. If you're travelling, rest assured that Pearson Airport is only a 15-minute drive away.
DEVELOPER

EMBLEM Developments is the private equity arm of First Avenue Investment Counsel Inc., a renowned Canadian investment management company that manages over $1 billion for Canadians. EMBLEM Developments specializes in high-rise residential buildings, with an outstanding portfolio consisting of over 1,600 residences and over $1.1 billion dollars of development value. EMBLEM Developments was founded by Kash Pashootan.
Artform Condos inspires a new way of living, a vibrant lifestyle with all that you need at your fingertips!
REGISTER TO GET IMMEDIATE VIP ACCESS TO MORE FLOOR PLANS & PRICING