About The Project
Project Name: Highlight of Mississauga
Location: 4070 Dixie Rd, Mississauga, ON L4W 1M4
Developer: Hazelton Developments
Architect: IBI Group
Interior designer: Patton Design Studio
Storeys:   14 storey condominium tower with 238 units (438-722 sq. ft., 1-2 bedrooms)
8 condo lofts (901-1247 sq. ft., 2-3 bedrooms)
16 townhouses (946-1239 sq. ft., 1-2 bedrooms)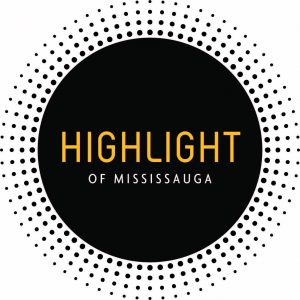 Join Mississauga's latest project, Highlight Condos & Towns, at 4070 Dixie Road located north of Burnhamthorpe Rd. At Highlight, the choice is yours. You can choose to enjoy the high life in a sky-view suite in the 14-storey condominium tower or live luxuriously in one of the urban townhomes. If none of those suit your needs, perhaps the stylish 2-storey lofts will be your happy medium. This enclave of condos, townhouses, and lofts all come together in one remarkable residential community.
Condos, Towns, and Lofts
The convenience of condominium living is tailor-made for those seeking all the advantages of homeownership with none of the hassles. Instead of cutting the grass or shovelling snow, take the time to enjoy yourself, making use of Highlight's fabulous facilities with family or friends, or simply the pleasure of your own company.
A limited number of 16 townhouse residences are also available within the Highlight community, half of which feature rooftop terraces and half with private garden patios. The open concept design combines living room, dining room and kitchen into one comfortable living area, ideal for both entertaining and your everyday enjoyment.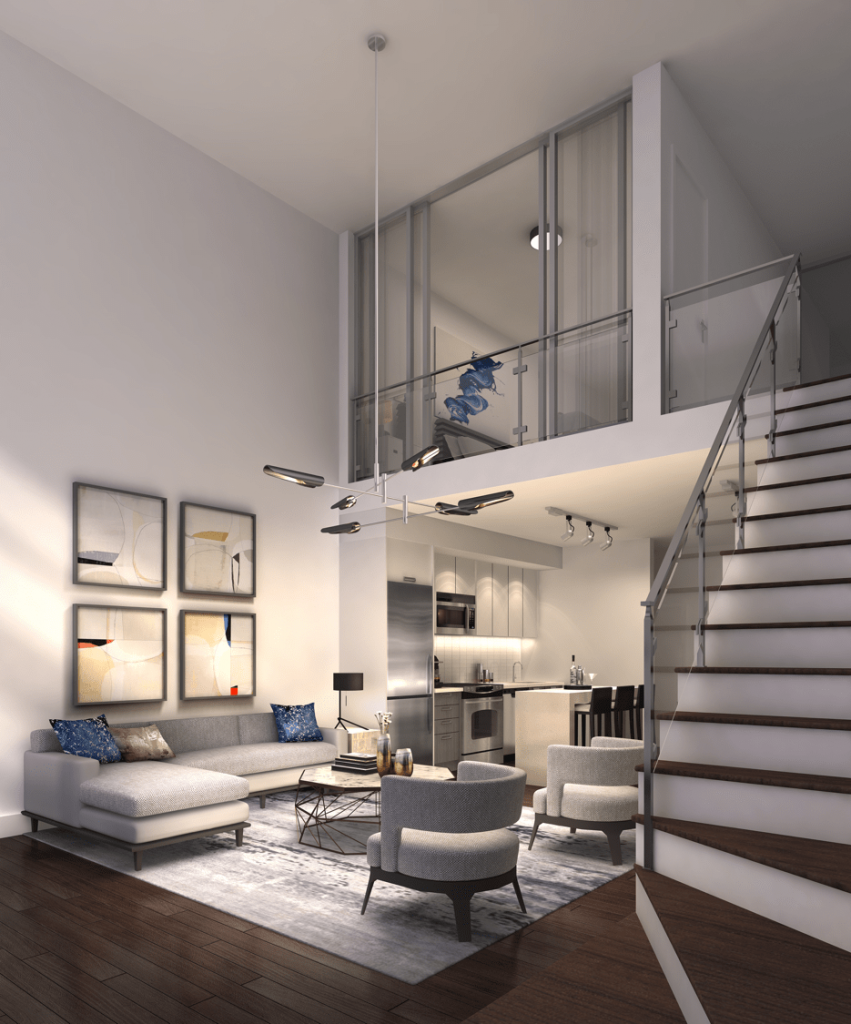 Set apart by their unique style yet still connected to the Highlight community, a limited collection of 4-storey loft residences represents modern living. On the lower level is your open "entertainment centre" that encompasses living room, dining area and kitchen, along with a walk-out to a private garden patio. On the floor above awaits your sleeping accommodations with some plans offering a media room/den as well.
Burhamthorpe Neighbourhood
Over the years Mississauga has evolved into a sophisticated metropolis, with its own vibrant arts, culture and recreation. The Burnhamthorpe neighbourhood lies within the eastern part of Mississauga, but still maintains proximity to the heart of the city centre. Rockwood Mall is just across the street from Highlight and offers many shops, restaurants, banks, and a supermarket too. You'll be able to reach Square One Shopping centre in under 9 minutes with over 360 premium retailers and services. A plus is that residents can also get to CF Sherway Gardens in the same amount of time! Doubling the shopping fun without doubling the distance!
For more active pursuits, the Paramount Fine Foods Centre (previously known as Hershey Centre) is a showcase for hockey, basketball, lacrosse and other sports and entertainment. Plus, Mississauga offers many ways to enjoy the great outdoors, from its parks, conservation areas and golf course to its miles and miles of nature trails. Rockwood Glen Park, Beechwood Park, Gulleden Park, Dixie Woods, and Kennedy Park are all less than a 15-minute walk away from Highlight! The larger Centennial Park is only a short drive away and is home to the Centennial Park Golf Centre, Centennial Conservatory, numerous hiking trails, and Etobicoke Creek.
Building Features
Awarding winning architectural firm IBI Group have designed Highlight to be both grand and gracious. The sheltering expanse of the porte cochere entrance will have your guests anticipating the elegance that awaits inside. This covered drop-off will keep you and your guests sheltered from the harshest of Canadian winters. Whether you're indoors or outdoors, the wall of floor-to-ceiling windows will be just as impressive as the chic lobby accompanied with 24/7 friendly concierge.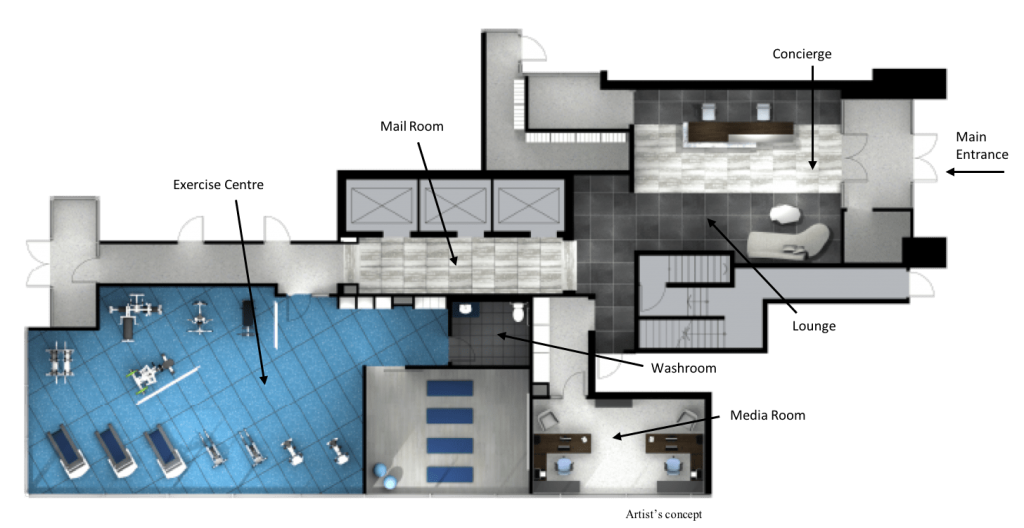 Highlight is filled with amenities and thoughtful interior designs by Patton Design Studio. The well-equipped fitness studio and yoga room with make any fitness enthusiast happy. Celebrate special occasions in Highlight's fabulous multipurpose party lounge with fireplace, dining area and kitchen. Continue your celebrations with a movie in the Wi-Fi-enabled media room or head to the beautifully landscaped rooftop terrace for some delicious BBQ and jaw-dropping views of the ever-changing Mississauga skyline. If your guests are just having too much fun, they can extend their stay overnight at the building's guest suite. Smaller design details such as bright, white painted walls for the underground parking make navigation easier and safer for drivers and pedestrians.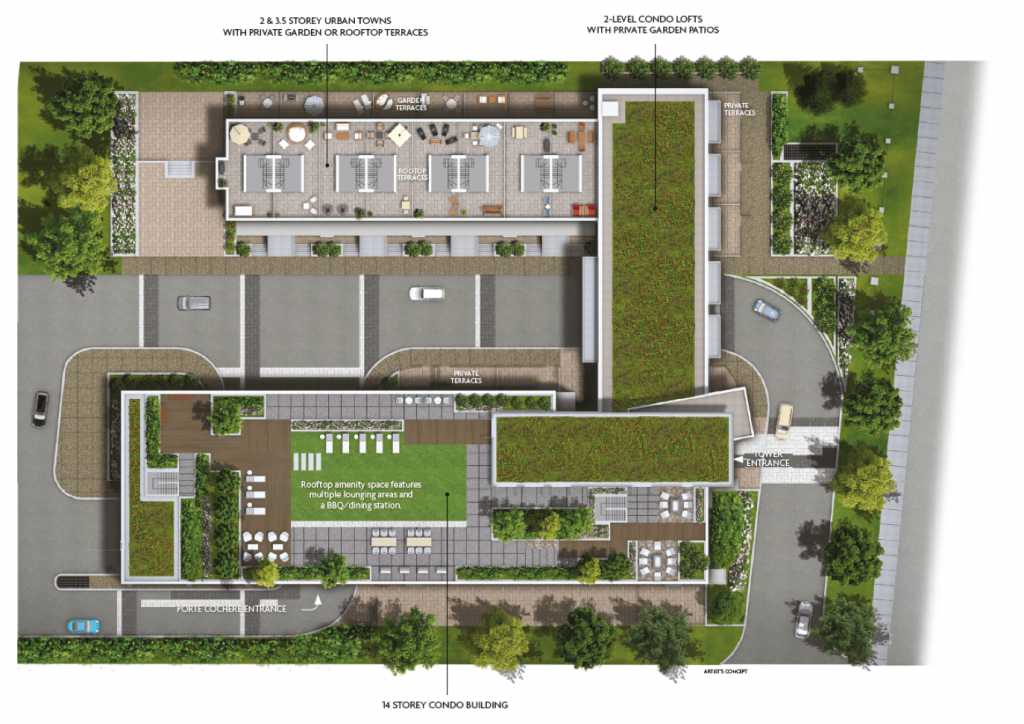 Suite Finishes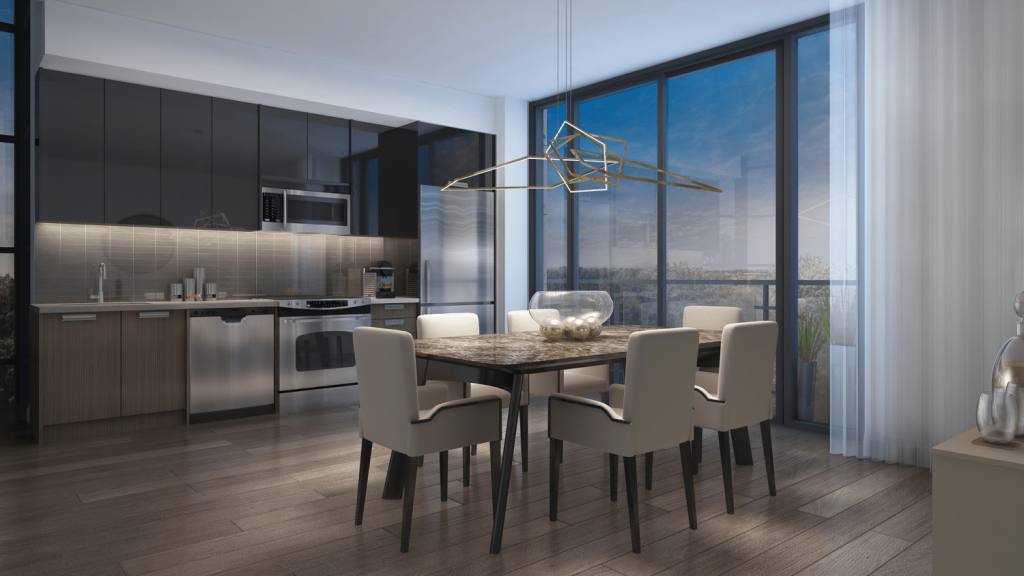 One of the great pleasures of buying a new home in its pre-construction phase is your ability to customize it to perfectly reflect your personal tastes and preferences. The premium, clean-lined and impeccably tailored interior design materials used in the creation of Highlight are evident at every glance.
The 9' smooth ceilings paired with high performance laminate flooring guarantees that your apartment will be open and stylish. Balconies and terraces will be large and provide the perfect sanctuary to catch the fresh, morning breeze with a cup of a coffee and the news. Kitchens will have granite countertops, stainless steel refrigerator, oven, and combination microwave-hood fan above the stovetop.
Transit
With Highlight's great Walk Score of 81, you'll find many of Mississauga's amenities are just a short stroll or quick jog away. Furthermore, a Transit Score of 56 makes commuting a breeze. Mississauga's public transit system – miWAY – stops virtually at your doorstep with connections to stations across both Mississauga and Etobicoke, linking you to all of the area's major commercial and residential neighbourhoods. Highlight's proximity to GO Transit and major highways including the 401, 403, 427 and the QEW makes the entire GTA within easy reach.
Development Team

Hazelton Developments meticulously selects the land they intend to build on. They seek out properties in emerging neighbourhoods in hopes of designing their condominium to set the stage for the kind of community they hope to grow. This is far more evident now, than a few years ago as the Greater Toronto Area propagates not only residential construction, but also promotes the growth for industrial & commercial enterprises as these are necessities for urbanization in low-density communities. Though these neighbourhoods are currently in the works of urban expansion, developers keep a sharp eye out for complimented land as these developments spark much interest for investors. Low pre-construction prices will hold high returns when the project and the surrounding community continues to evolve throughout the upcoming years.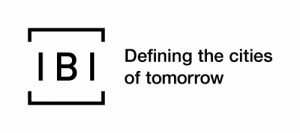 Established in 1926, Page + Steele IBI Group Architects have perfected their niche in the real estate development focusing on commercial, hospitality, urban mixed use and residential structures. With 38 years of experience in the field, Page + Steele IBI Group Architects have built a rapport with each industry needed to complete a project, establishing highest & best quality, prudency and care!
The Patton Design Studio aims to address the goal that each design is supposed to accomplish and then work to find a solution that is best for the client.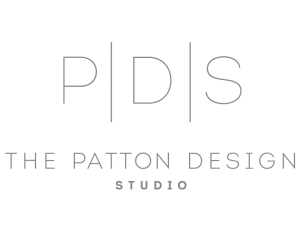 The interior of Highlight is guaranteed to have design that not only looks beautiful, but works beautifully too! The Patton Design Studio prefers not to affiliate themselves with a signature style as they believe design is always in flux. Such diversity is what drives their creative interpretation in delivering iconic design for their clients.
Register to get immediate VIP access to more floor plans & pricing